A Short Pencil is better than a Long Memory
Write it down, record it - In a note pad, back of the hand, PDA, whatever is handy.
It doesn't need a long story, just enough to ensure that you have captured the issue and that it will jog your memory

Sunday 2 May, 2010 08:29 AM
For the non believers and philistines, this is a Biblical reference to Jesus carrying the cross. Jesus accepted the sacrifice which he had to make for the greater good of mankind and he was resolved to his fate.
Similarly, there are times when we also have to make a sacrifice and we accept that we have no choice and must do things which are painful or unpleasant but are for the greater good of the business or project.
Sunday 25 April, 2010 11:04 AM
Paralysis by Analysis


How often do you find barriers being put up by people unwilling or unable to make a decision unless it has been verified by "every man and his dog" remotely connected with the job.
There is always have a reason why "someone else" needs to make a decision or do something before it can happen. The decision makers (or in reality the "non decision makers") band together and feed on each others lack of ability to manage or to make a positive decision. Endless meetings, reports, market research, studies, reports, trials, consultations. Everything goes back to this elusive "someone else" character or "we need more ????? - insert anything.
You know the story. It's always down to "someone else" to do something, ….........anything, …....just as long as it causes a delay and avoids commitment.
From your perspective, it's a "Nike" (Just Do It) or JFDI (Just Flipping Do It) and if it was your call, it would be up and running by now.
Unfortunately it needs to be approved by others and the job falls into the - "Paralysis By Analysis" basket.
And the answer is ..........?
I'm sorry, I don't have an answer.
Unfortunately, as Engineers, there are times when we bite our tongues and remember that "We all have our cross to bea r"

Sunday 25 April, 2010 10:29 AM
An Oldie – But a Goodie


How come we don't have the time to do the job right the first time –
But we can always find time to work on the foul ups afterwards
Monday 19 April, 2010 06:42 AM
An Oldie – But a Goodie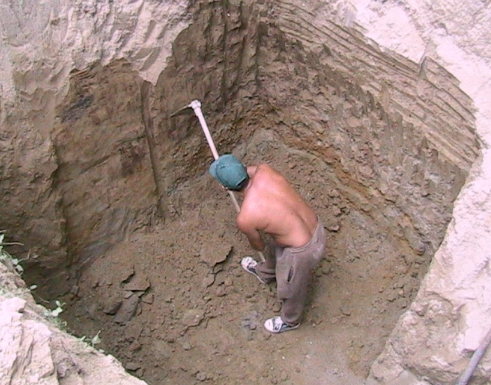 When you realise that you are in a hole – stop digging.
I think that we can all relate to that.
Stop digging yourself into a deeper hole and start working out how to start going in the opposite direction and getting out of the hole
Monday 12 April, 2010 10:07 AM
To Gantt Chart or Not to Gantt Chart

That is the question
Whether tis nobler in the mind to suffer
The risks and hassles of possible failure
Or to take steps against a sea of potential troubles,
And by detailing every step end them? To not fail: but to sleep;
No more; the troubled sleep of anxious mind.
The heart-ache and the thousand natural shocks of a disturbed nights sleep
The doubts which creep into the minds subconscious
For is it worth the time and effort taken
To detail a small project. Verses the satisfaction:
Of knowing a thorough job will minimise the chance of failure
Devoutly to be wish'd. To not fail, but to sleep;
To sleep: perchance to dream: ay, there's the rub;
For in that sleep of success what dreams may come
When we have shuffled off this mortal companies payroll,
Must give us pause: there's the respect of a job well done
But a calamity will stick and have a long life;
For what Engineer would bear the whips and scorns of time

with apologies to one William Shakespeare
Wednesday 31 March, 2010 09:48 AM
Read more...
How do you achieve the power, precision, flexibility and reliability of a hydraulic system from a standard compressed air supply ?

Many times in Engineering design, there is a need to deliver the characteristics of a hydraulic system without the costs of a full hydraulic system. Generally compressed air is readily available in most applications. Even if its not, the cost of supplying compressed air is usually much less than an equivalent hydraulic system. There are ways to boost the performance and characteristics of pneumatics but the cost and complexity (read reliability) increases exponentially and it is never the same outcome as a good hydraulic system.
Before settling for a pneumatic design which may not supply the ideal performance or characteristics, consider the advantages of an "Air Over Hydraulic" system, such as the units supplied by Enerpac.
I have successfully used these units in a number of applications requiring precise control, at a very reasonable cost.
Obviously they are not going to suit every application but I would certainly recommend that they be considered as a viable alternative.
Monday 29 March, 2010 09:29 AM
There have been references to Round Tuits since Adam was a boy and I'm sure that most people must have searched for them at some stage in their lives. However, for the few who haven't had a need, this is a mythical Round Tuit

As you can see they would be extremely useful and could potentially be used by many people who would complete many more tasks, if they could only get a Round Tuit
Tuesday 16 March, 2010 09:42 AM
Read more...
<< Start
< Prev
1
2
3
4
5
6
Next >
End >>
Results 17 - 24 of 45