George Costanza, of Seinfeld fame had his "Rules for the Office".
But i f George had been an Engineer, he might have had a slightly different set of rules.....
If George had been an Engineer, he might have said .....

1. Never walk anywhere empty handed

Never walk without a tool, toolbox, clipboard in your hand and make sure that you have a Tape Measure, Utility Tool Set in a pouch and big bunch of noisy keys on your belt . Sometimes its good to mix it up a bit with a hard hat, gloves and safety glasses. This makes it looks like you are doing real work. People with nothing in their hands look like they're heading for the canteen. People with a newspaper in their hands look like they're heading for the toilet (Tip - if you do want to take the newspaper to the toilet, wrap it in a drawing). All of this may be a bit cumbersome but that's the sacrifice you are prepared to make. Above all, make sure that you carry loads of stuff home with you at night, thus giving the false impression that you are extremely dedicated and will be working later in the evening on that deadline.

2. Use computers to look busy

This is a gift from above and is the first part of keeping on top of your personal and social life (the cell phone is the second part) Always have an open Cad drawing and be ready to flip over to it if you are about to be caught out. A Cad drawing on the screen saver is another good idea.
Any time you use a computer, it looks like "work" to the casual observer. You can send and receive personal email, calculate your finances and generally have a blast without doing anything remotely related to work. These aren't exactly the societal benefits that the proponents of the computer revolution would like to talk about but they're not bad either.
When you get caught by your boss - and you *will* get caught - your best defense is to claim you're teaching yourself to use new software, thus saving valuable training dollars or you are researching new engineering components.
3. Messy desk

Top management can get away with a clean desk. For the rest of us, it looks like you're not
working hard enough. Build huge piles of drawings and documents around your workspace. Stick drawings on the walls, stick up Gantt charts. To the observer, last year's project looks the same as today's work; it's volume that counts. Pile them high and wide. If you know somebody is coming to your cubicle, bury the
document you'll need halfway down in an existing stack and rummage for it when he/she arrives. Failed machine parts are good because there is always a need to measure, ponder and redesign. When the boss catches you snoozing in your chair, arms folded and dreaming of beer and pizza, you're response is that you had closed your eyes to envisage the solution to this problem. And if the boss asks what the solution is, you answer ... "almost had it, but not quite there yet, a lot of OH&S issues to resolve first". Also, small bright shiny machined components (that were usually ordered by mistake) are good for distraction and conversation. If anyone asks, they are for new projects which you are working on (Stainless is good and anything which slides, rotates or just moves is good) , but remember that these projects are very confidential so you can't discuss them. This is a good ploy to raise your level of importance in the company.
4. Voice Mail and The Cell Phone
Never answer your phone if you have voice mail. People don't call you just because they want to give you something for nothing - they call because they want YOU to do work for THEM. That's no way to live. Screen all your calls through voice mail. If somebody leaves a voice mail message for you and it sounds like impending work, respond during lunch hour when you know they're not there - it looks like you're hardworking and conscientious even though you're being a devious weasel. If you diligently employ the method of screening incoming calls and then returning calls when nobody is there, this will greatly increase the odds that the caller will give up or look for a solution that doesn't involve you. The sweetest voice mail message you can ever hear is "Ignore my last message. I took care of it". If your voice mailbox has a limit on the number of messages it can hold, make sure you reach that limit frequently. One way to do that is to never erase any incoming messages. If that takes too long, send yourself a few messages. Your callers will hear a recorded message that says, "Sorry, this mailbox is
full" - a sure sign that you are a hardworking employee in high demand. Caress, stroke and worship the cell. It is always at your ear and you are unable to communicate with anyone else. Which is good because you are talking to anyone and everyone about anything but work. Therefore you are much too busy to get involved in any work related issues. Thats what the voicemail is for.
5. Look impatient and annoyed
If you think that new work might be coming your way, develop the furrowed brow frown, try to look impatient and annoyed to give your bosses the impression that you are always busy. The look is "Don't bother me now, can't you see that I'm under great stress and ready to explode"
6. Leaving the Office late
Always leave the office late, especially when the boss is still around. You could read magazines and storybooks that you always wanted to read but have no time until late before leaving. Make sure you walk past the boss' room on your way out. Send important emails at unearthly hours (e.g. 9:35 pm, 7:05 am, etc...) and during public holidays.
If your boss is still around, this is a good time to look really busy by rearranging the mess on your desk. Remember that you always need to put everything back in exactly the same place, but it makes you look extremely keen, motivated and industrious. If you are in a manufacturing environment, it's always a good time to go visit the afternoon shift to have a coffee and chat. It shows that you are caring, motivated, interested and dedicated, nod sympathetically as they tell you all of their problems. Under no circumstances should you ever volunteer to try and fix them.
7. Creative Sighing for Effect
Sigh loudly when there are many people around, giving the impression that you are very hard pressed. Swear frequently under your breath, mutter "so much to do, so much to do" repeatedly as you walk, head slightly bowed and slowly shaking it from side to side.
8. Stacking Strategy

It is not enough to pile lots of documents on the table. Have lots of technical books everywhere. You can always borrow from the library but the chances are that your colleagues will have plenty of old technical books from their university days, which have never been opened since graduation. Thick engineering reference manuals are the best.
9. Build Vocabulary
Read up on Engineering magazines, pick out all the latest buzz words, jargon and new products. Use it freely when in conversation with bosses. Remember: They don't have to understand what you say, but it sounds impressive.
10. Have 2 Jackets

Always keep Hi-Viz vests, a Hard Hat and Safety Glasses in open view on your desk or work area. If you work in a big open plan office, always
leave a spare jacket and half drunk coffee cup in open view. This gives the impression that you are still on site. The second jacket is obviously worn on an "as needs" basis.
These are the 10 points George highlighted with some Engineering massage. But being Engineers, we know that there is always more …...........

11. The White Board
Have a big white board adjacent to your desk or work area, always have lots of diagrams and buzzwords with a "To Do' list prominently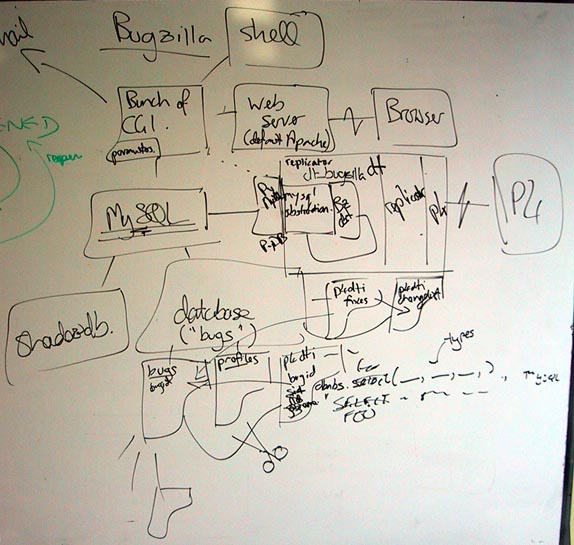 displayed. Remember that color is good
12. Keep a lot of Work on Hand
Always have an extensive list of low priority jobs which you are working on. It's very important to not actually do any work on them. But when someone tries to give you real work, you can reel off this long list and so demonstrate that you can not fit anything else into your overloaded schedule.
13. Meetings

Meetings need to be avoided like the plague, It can be very hard to avoid being assigned work when you're in a meeting. When invited to a meeting, your first your response should be "Sorry, I would like to be there but I'm too busy, send me an email with the minutes" . If disaster happens and you are not able to avoid a meeting, always arrive late with the cell at your ear and sign off with a loud "leave it to me, I'll fix it". That always gives you an air of authority and lets the others in the meeting know that you are an action person. If you are not able to melt into the background at the meeting and are dragged into contributing, always start with "well....somebody needs to....." and make it clear that it will not be you. When total boredom finally kicks in, put the cell to your ear and walk out, so as to take the "non existent" call "out of the meeting". When your out of the meeting, keep walking.
14. Be Obsessive
Use the clipboard, make lists....of anything, the more obscure the better. Talk in acronyms. Your day is governed by check lists ...arrive at the office – tick, turn on computer - tick. Measure objects randomly, lots of objects, use the tape measure on your belt, mutter incomprehensibly. Be obsessed with irrelevant detail e.g. the current time is not "about 10 in the morning" ….its 9.58 am. Punch random
numbers into your calculator and gaze at it knowingly whilst slowly nodding approval at the answer its giving you. All of this behaviour gives the impression that you are technically astute, switched on, wise and in control. Obviously an indispensable asset to the organisation.
15. MOST IMPORTANT
Don't email to your boss – the chances are that your boss has followed this strategy and that's why they are THE BOSS !!!!!
Sneaky Secrets to Becoming a Successful Engineer - www.engcom.net